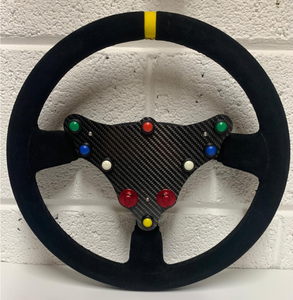 10 Button Enclosure M-Sport Style
M-Sport style steering wheel button enclosure
This enclosure works best with a semi-dished steering wheel (Approx. 65mm dish)
Supplied with 10 momentary push buttons of various colours, extra button holes can easily be added if required.
The front face plate is cut from high pressure pressed carbon fibre sheet which gives high strength and rigidity. 
The rear cover is 3D printed in black using the latest technology HP 5210 multi jet fusion, the material has excellent chemical resistance to oil, fats, aliphatic and alkali hydrocarbons. Please note this is not the cheap common type of 3D printing.
Steering wheel not included.
Please contact for bulk order discount.